Summit Overview
Precise On-Wafer Device and Process Characterization
High-precision probe system that enables unattended testing at multiple temperatures. Excellent measurement performance is achieved for a wide range of applications in an EMI-shielded, light-tight and moisture-free test environment, at a temperature range from -60°C to 300°C.
Applications: IV/CV, RF/mmW, Failure Analysis, WLR, MEMS
Summit Key Features
High flexibility
Re-configurable for DC, RF, mmW, FA, WLR and more
Thermal range: -60˚C to 300˚C available
Upgrade path to meet your future needs
Complete solution for small- and large-area multi-site probe cards*
Stable and repeatable measurements over a wide thermal range
* Semi-auto version only.
Advanced shielding solution
Moisture-free, light-tight and EMI-shielded test environment with MicroChamber® technology
Advanced EMI-shielding with PureLine with AttoGuard technologies
Best solution for low-noise and 1/f measurements
Minimize AC and spectral noise
Minimizes settling times for efficient measurements, without compromising accuracy over full thermal range
Ease of use
Locking roll-out stage
Innovative microscope remote control
Intuitive ergonomic stage controls
Quick, safe, and comfortable wafer access
Easy on-wafer navigation
Fast setup and test data gathering
Unattended testing over multiple temperatures*
VueTrack™ technology
High-Temperature Stability (HTS) enhancement
Faster time to data
Improved yields
* Semi-auto version only.
Productivity*
eVue™ digital imaging system
Powerful automation tools
CellView
Enhanced optical visualization, fast set-up, and in-die and wafer navigation
Automatic die-size measurements and wafer alignment
Enables fast sub-die navigation
* Semi-auto version only.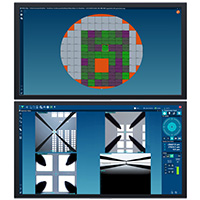 User-centered design minimizes training costs and enhances efficiency
Windows 10 compatibility enables highest performance and safe operation with state-of-the-art hardware
Comprehensive alignment functions – from simple wafer alignment and mapping to advanced probe-to-pad alignment over multiple temperatures for autonomous semiconductor test
Simplified operation for inexperienced users: Reduced training costs with Workflow Guide and condensed graphical user interface
VeloxPro option: SEMI E95-compliant test executive software that enables simplified and safe automation of the entire wafer test cycle
*Semi-auto version only.
Videos Autonomous RF Measurement Assistant
FormFactor's Autonomous RF Measurement Assistant is the only solution in the market that enables true automatic, hands-free calibration and measurement of RF devices at multiple temperatures.
With our exclusive patented RF TopHat, motorized positioners and intelligent software algorithms, the solution runs over days without an operator – constantly monitoring calibration accuracy and ensuring measurement certainty for every device measurement. With more test data and higher accuracy, the Auto RF Measurement Assistant reduces cost of test, minimizes training needs and accelerates time to market.
The Autonomous RF Measurement Assistant is available for our 300 mm and 200 mm wafer probe stations CM300xi, SUMMIT200, Summit 12000 and Elite.