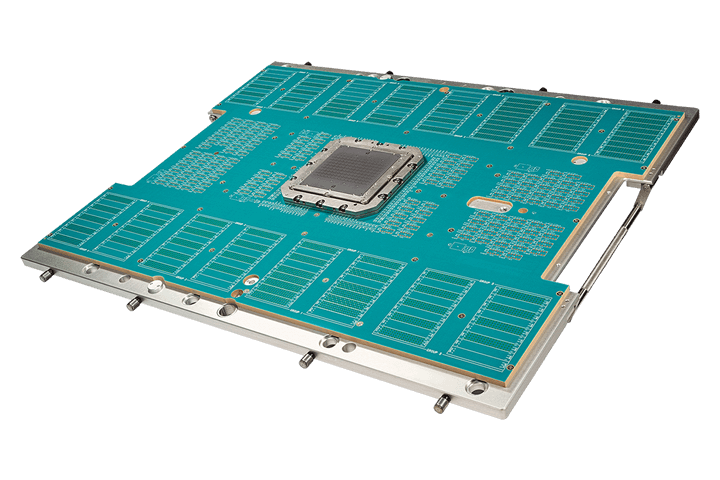 Kepler™ is a vertical probe card solution for high parallelism pad testing with large active areas. The Kepler product provides an industry best test solution for devices with small pad size, fine pitch, and wide temperature range requirements. These capabilities are essential to support testing requirements for SoC wire bond devices in automotive, high-performance microcontrollers (MCU), and driver chips, as well as many other applications.
Kepler enables customers to decrease the cost of test by increasing parallelism, multiplying the number of devices tested simultaneously while adhering to stringent electrical and thermal mechanical requirements. As semiconductor manufacturers continue to drive down the overall cost of test, high parallelism solutions are needed, which lead to larger active area probing. Large active probing areas combined with large temperature ranges presents many unique probing challenges which are solved utilizing Kepler's unique architecture.
The new Kepler vertical MEMS probe technology offers a thermal mechanically stable platform for probing pad applications. With its unique high-precision/low-force 2D vertical springs, the architecture provides excellent contact stability with superior planarity control over a larger active area. Kepler is a service-friendly probe card architecture with individual springs or probe card components replaceable in the field to reduce repair cycle time.
Developed for high probe count multi-DUT testing in high-volume manufacturing environments, Kepler is optimized to help chip suppliers reduce their overall cost of test while maximizing yields.
Proprietary fine pitch, low force vertical 2D MEMS springs
Fully automated Spring Head assembly
Utilizes Multi-Layer Ceramic (MLC) space transformer
Flexible probe head configuration to support various device layouts, array sizes and pad pitch requirements
Full planarity/tilt adjustment capability
Service friendly architecture – field replaceable springs and components
Kepler Key Benefits
Thermally stable vertical spring architecture to support wide temperature range of automotive test requirement
Excellent XYZ tip position performance
Tight pad pitch, multiple pad rows, and core pads capable
Probe on small pads with minimal pad damage
Stable electrical performance – low, stable CRES
Increase parallelism to reduce cost of test
Fast on-site repair to increase uptime
Stay Connected
Receive product updates and event notifications
Subscribe to Our Newsletter