Cascade
IMS-K-Load-Pull
Integrated Measurement System with Keysight VNAs and Focus Microwaves tuners for On-Wafer Load-Pull Measurements
Connect to an Expert
Looking for customer support? Ready to learn more about our products and services?
Contact Sales Today
Stay Connected
Receive product updates and event notifications
Subscribe to Our Newsletter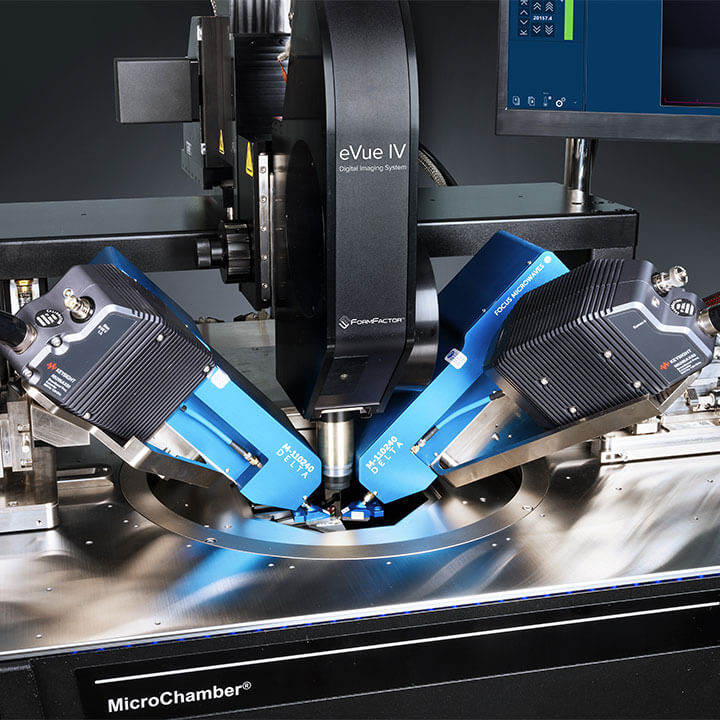 Comprehensive, Turn-key On-wafer Load-pull Integrated Measurement System (IMS) with Keysight Vector Network Analyzers and Focus Microwaves tuners
FormFactor and solution partners Keysight Technologies and Focus Microwaves applications experts will help you configure a robust, complete solution, including:
Manual, semi-automatic and fully automatic probe station options
FormFactor analytical probes: Infinity, InfinityXT, ACP, |Z| probes, T-Wave, (others available) on manual or motorized positioners
FormFactor calibration accessories: WinCal, Impedance Standard Substrate for LRRM, Multiline TRL Cal Substrate calibrations (others available)
FormFactor IceShield insert with full thermal capability from -60°C to +300°C
FormFactor exclusive RF TopHat with probe window for EMI and light-tight testing
Keysight vector network analyzers and frequency extenders up to 130GHz: N5290A/91A PNA mm-Wave, N524xB PNA-X, P50xxB Streamline VNA (others available)
Focus Microwaves premium tuners, ranging from Fundamental, Harmonic, Low-Frequency, Active, & Manual for coaxial and waveguide vector load-pull
To complete the system: cables, adapters, mounting hardware, etc.
Best-in-Class Tuning Range Performance with Minimized Insertion Loss and Optimized Gamma
The tuners from Focus Microwaves are specifically designed for on-wafer integration, which allows them to be located as close to the wafer as physically possible, without the need for a coupler or a cable. FormFactor's probes can be directly connected to the test port of the tuner, which minimizes insertion loss and maximizes gamma, allowing a very large cover of tunable impedances over the Smith chart. FormFactor's IceShield platen insert solution allows for frost-free operations at low temperatures and high relative humidity. Tightly integrated instrumentation from industry leader Keysight completes the system to deliver best possible measurement accuracy and repeatability.
Fastest, Low-Risk, and Most Affordable Path to High Quality Measurements
Pre-validated, turn-key, comprehensive, integrated measurement systems from FormFactor deliver peace of mind and immediate, out-of-the-box productivity for important test applications.
These benefits are provided at no extra cost. IMS solutions from FormFactor include no markups over Keysight and Focus pricing, or integration charges.
Only one on-wafer load-pull system in the world is built upon the foundations of the #1 leader in R&D instrumentation plus the #1 leader in analytical probe systems – the FormFactor IMS-K-Load-Pull.
Applications: On-wafer RF/mmW load-pull
Stay Connected
Receive product updates and event notifications
Subscribe to Our Newsletter