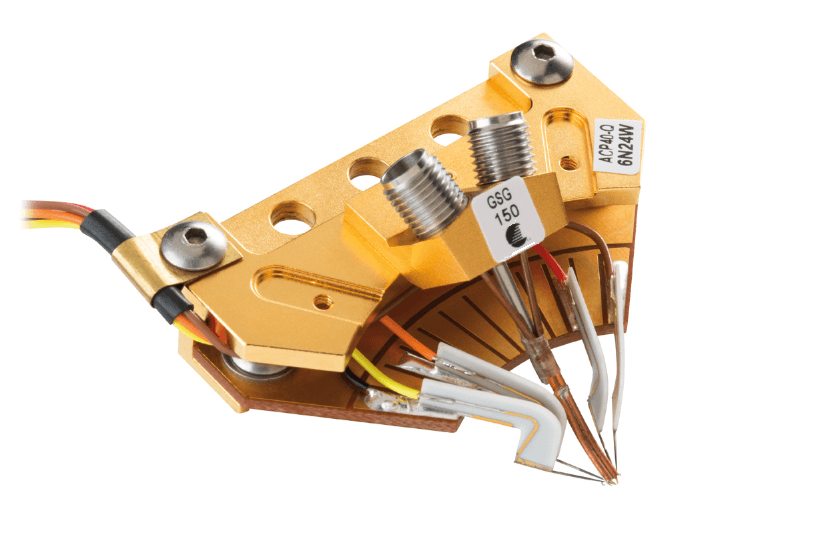 Quadrant Probes were developed in response to the need for multiple probe tips in a single module. Configurations consist of all RF or a combination of RF and DC. The RF probes use Air Coplanar technology to produce a rugged microwave probe with a compliant tip for accurate, repeatable measurements on-wafer. The DC probes use ceramic blade needles for low noise and high performance. The ACP Quadrant Probes are customizable to fit your specific needs.
40/80 Gb/s High Performance RF Quadrant
Designed to provide wide bandwidth RF connections and simultaneous resonant free power bypass connections for the special needs of high-speed mixed mode IC s for optical networks.
Low RF loss and excellent impedance control over very wide bandwidth
High performance resonance free bypass for low impedance power supplies
Allows on-wafer evaluation of high performance digital circuits
Minimal distortion of high-speed digital signals
Maximized eye diagram test performance at wafer test
Durable Air Coplanar tip technology for long contact life
Combination of DC and RF in a single probe module: One dual probe or a maximum of three RF; a maximum of 9 DC standard (other quantities upon request).
Utilizes ACP tip design, GSG, GS or SG
RF tips available from DC to 110 GHz
Choice of BeCu or tungsten tips
DC power needles come standard with 100 pF microwave capacitor
Power bypass inductance: 8 nH
Maximum DC voltage: 50 V without power bypassing (25 V with standard power bypassing, and component dependent with custom power bypassing)
Ideal for probing the entire circuit for functional test
Dual ACP configuration supports differential signaling applications
DC probes can provide power or slow logic to circuit under test
Stay Connected
Receive product updates and event notifications
Subscribe to Our Newsletter