Cascade
Impedance Standard Substrates
For ACP, Infinity, and FPC Probes
Connect to an Expert
Looking for customer support? Ready to learn more about our products and services?
Contact Sales Today
Subscribe to Our Newsletter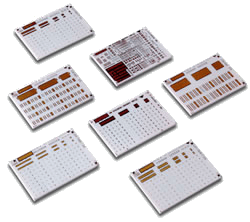 Impedance Standard Substrates (ISSs) supports all of your high-frequency probing applications. Using them ensures greater accuracy and better repeatability in on-wafer calibration of vector network analyzers. Our ISSs offer the proven accuracy of LRRM calibrations with automatic load inductance compensation.
GSG
Pitch (µm)
P/N
Frequency (GHz)1
Note
50 to 75
162-641
325 GHz*
Verification Lines [0.5, 1, 1.1, 1.4, 1.9, 2.3, 2.7, 3, 3.2, 3.8, 4.5,7,14,27,40] ps
50 to 75
138-356
325 GHz*
50 to 150
104-909
67 GHz
Mix of GSG & GS/SG
75 to 150
104-783
145 GHz*
100 to 150
114-456
67 GHz
For probes with contact widths < 30 um
100 to 150
138-357
325 GHz*
100 to 250
143-033
145 GHz*
100 to 250
101-190
67 GHz
100 to 500
109-531
67 GHz
Right Angle standards; N-E, N-W, E-W
250 to 1250
106-682
67 GHz
150 to 3000
108-010
67 GHz
Recommended > 1250 um pitch
1 Recommended upper frequency
* Supports Probe for full range coaxial ranges up to 145 GHz and banded Waveguides to 145 GHz or 325 GHz
GS/SG
Pitch (µm)
P/N
Frequency (GHz)1
Note
50 to 150
104-909
67 GHz
Mix of GSG & GS/SG
100 to 250
103-726
67 GHz
250 to 1250
106-683
67 GHz
150 to 3000
108-011
67 GHz
Recommended > 1250 um pitch
1 Recommended upper frequency
GSGSG / THRU
Pitch (µm)
P/N
Frequency (GHz)1
Note
100 to 125
129-239
67 GHz
Also supports SGS, SGSG, GSGS configurations
150
126-102
67 GHz
Also supports SGS, SGSG, GSGS configurations
150 to 225
129-240
67 GHz
Also supports SGS, SGSG, GSGS configurations
250
129-241
67 GHz
Also supports SGS, SGSG, GSGS configurations
300 to 650
129-248
67 GHz
General Purpose THRU substrate (Straight, Loop Back, Cross)
700 to 1250
129-249
67 GHz
General Purpose THRU substrate (Straight, Loop Back, Cross)
1 Recommended upper frequency
GSSG / THRU
Pitch (µm)
P/N
Frequency (GHz)1
Note
100 to 150
129-246
67 GHz
Also supports SSG, GSS configurations
175 to 250
129-247
67 GHz
Also supports SSG, GSS configurations
300 to 950
129-248
67 GHz
General Purpose THRU substrate (Straight, Loop Back, Cross)
1000 to 1250
129-249
67 GHz
General Purpose THRU substrate (Straight, Loop Back, Cross)
1 Recommended upper frequency

Wide Pitch: (> 250 um) differential / multiport calibration, additionally use the wide pitch, single-ended ISS (106-682 or 106-683)

Narrow Pitch: For dual probe with pitches <100um, please use the matching singled-ended (GSG or GS / SG) ISS

Multiple Config
Pitch (µm)
P/N
Frequency (GHz)1
Note
Variable
005-016
Variable
General Purpose
80 to 3000
106-686
67 GHz
General Purpose Membrane
1 Recommended upper frequency
Subscribe to Our Newsletter