Autonomous Silicon Photonics Overview
FormFactor introduces a new assistant for enabling and optimizing silicon photonics coupling. The use of single optical fibers and fiber arrays as probes to couple light into and out of a wafer surface creates many challenges that FormFactor manages through its Contact Intelligence technology. Unlike electrical testing, optical testing uses fibers and fiber arrays that do not contact their corresponding 'pads' known as grating couplers on the wafer surface. Instead, fibers need to be articulated above these couplers to find the position of maximum optical power transfer.
Setting the initial Z position of the fiber or array tips relative to the wafer surface and then optimizing their position is accomplished through a unique automated technique developed by FormFactor engineers. Using advanced image processing and specially developed algorithms, incident angles and rotational axes can be automatically adjusted and set accordingly.
FormFactor has also implemented a Z displacement sensing technology that enables precise sub-micron level placement accuracy of the fibers and arrays when stepping die-to-die. These automated optical capabilities can also be combined with programmable DC and RF positioning technology to create a truly automated Optical-Optical, Optical-Electrical, and Optical-Electrical-Optical test platform.
For optical applications, Contact Intelligence reduces what used to take days, weeks or months to a matter of minutes while offering flexibility in a dynamic engineering environment and a stable repeatable environment for production.
Autonomous Silicon Photonics Key Features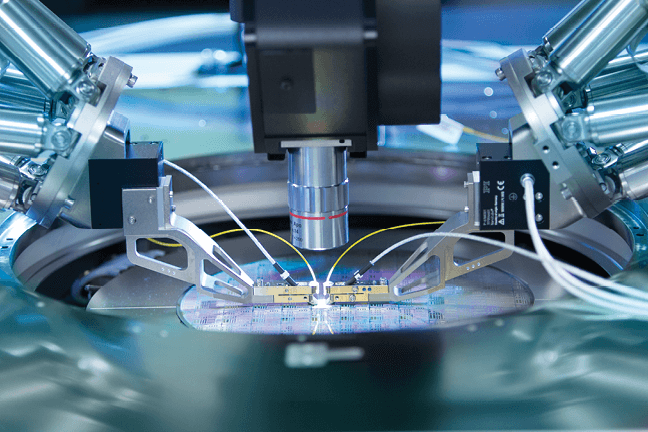 Contact Intelligence
Six-axis automated optical fiber positioning for precision alignment
Two-stage solution for both coarse and fine alignment
FormFactor's SiPh software to simplify integration with Keysight's Photonics Applications Suite and optical instrumentation
Customized scripting and test programs to optimize the system for fast, accurate measurements
Keysight's high speed, single sweep polarization-dependent-loss (PDL) test that enables high accuracy and repeatability testing without prior polarization alignment.