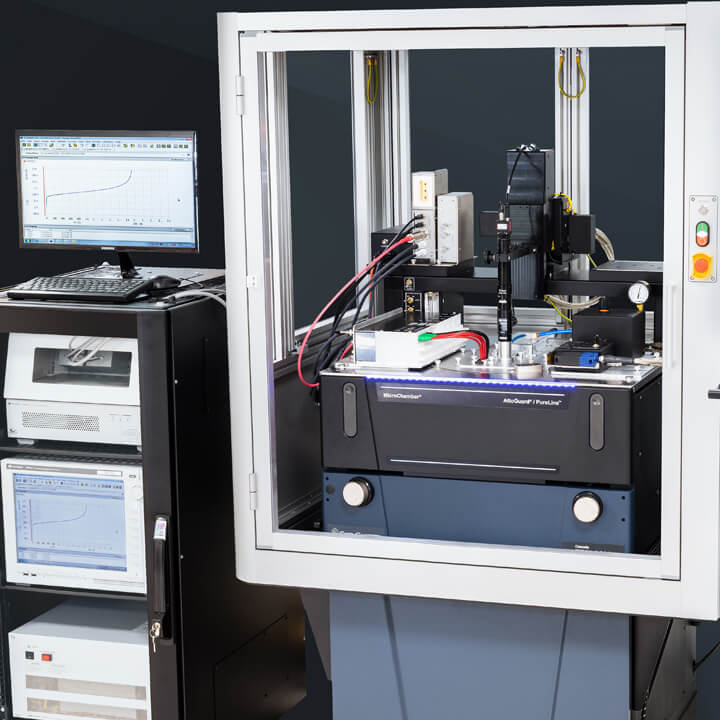 Comprehensive, Turn-key Integrated Measurement System (IMS) with Keysight PDA
for On-wafer R&D Power Semiconductor Device Characterization Measurements
FormFactor and partner Keysight applications experts will help you configure a robust, complete solution, including:
FormFactor probe system: TESLA300, TESLA200, EPS150TESLA (others available)
Manual, semi-automatic and fully automatic probes station options
FormFactor analytical probes: High Voltage Probes, High Current Probes, High-Power Probes
T.I.P.S. "LuPo" High Voltage / High Power Probe Card (optional)
Full over temperature measurements and automation from -60°C to +300°C
Keysight power device analyzer (PDA): B1505A (others available)
Keysight automation and modeling software: EasyEXPERT group+
To complete the system: cables, adapters, mounting hardware, etc.
Industry's Most Productive and Accurate Power Semiconductor Device Characterization System
When testing Si and advanced GaN / SiC devices on-wafer instead of in-package, R&D engineers and test operators are faced with some major challenges to collect high accuracy data. These include the need for probe and system anti-arcing at high voltage, low resistance probe and wafer contacts for high current, and special handling for thinned wafers. Simultaneously, the need for "fast time to accurate data" requires quick and easy setup of complex high power test configurations, with operator and device safety in mind. Tightly integrated instrumentation from industry leader Keysight completes the system to deliver best possible measurement accuracy and repeatability.
Fastest, Safest, and Most Affordable Path to High Quality Measurements
Pre-validated, turn-key, comprehensive, integrated measurement systems from FormFactor deliver peace of mind and immediate, out-of-the-box productivity for important test applications.
These benefits are provided at no extra cost. IMS solutions from FormFactor include no markups over Keysight pricing or integration charges.
Only one power semiconductor device characterization system in the world is built upon the foundations of the #1 leader in R&D instrumentation plus the #1 leader in analytical probe systems – the FormFactor IMS-K-Power.
Applications: Power Semiconductor Device Characterization
Stay Connected
Receive product updates and event notifications
Subscribe to Our Newsletter