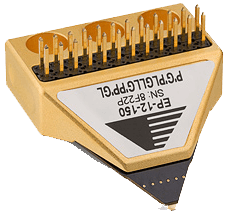 The multi-contact Eye-Pass probe provides controlled impedance power connections enabling functional testing of even the most challenging circuits on-wafer. The high-durability composite multi-finger tip provides high compliance and ensures precise alignment. This custom probe allows the user to select the footprint pattern best suited for the application, with up to 12 contacts per probe head. Available contact types are ground, logic, standard and Eye-Pass power supply, power supply sense, and ac signal.
For more information, contact sales.
High performance power bypassing provides low-impedance and resonant-free connections to 20 GHz
RF bandwidth to 500 MHz
Long probe life: > 250,000 contacts
Beryllium-copper tips for gold pads or tungsten for aluminum pads
Oscillation-free testing of wide-bandwidth analog circuits
Use with ACP series probes to provide functional at-speed testing for known-good-die
Mix multiple contact types: Ground, Power (Standard or Eye-Pass), Logic/Signal
Low and repeatable contact resistance on aluminum pads ( < 0.25 Ω on Al, < 0.01 Ω on Au)
Probe Selection Guide
Use our online tool to capture your design requirements and receive a quote.
Stay Connected
Receive product updates and event notifications
Subscribe to Our Newsletter