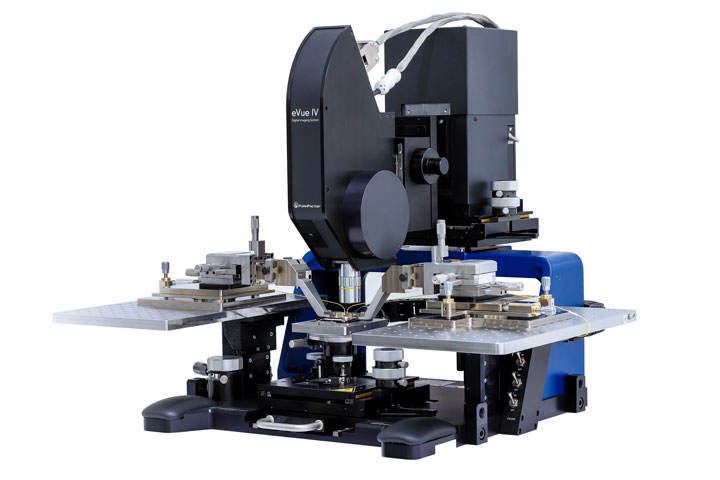 Entry Level Manual Probe Station for Surface Coupling and Horizontal Edge Coupling
FormFactor introduces a cost-effective silicon photonics measurement solution to support fundamental research work for emerging applications. Designed into the system are FormFactor's years of experience developing automated photonics measurement systems – now tailored to the needs of universities and other entry-level users.
The MPS150-SiPh ensures optical fibers can be precisely aligned to couple light in and out of a device without physical contact. Leveraging its intuitive design, the MPS150-SiPh is the perfect solution for less experienced users to discover photonics and achieve highest accuracy test results.
Retro-Mirror Technology
Unique DUT holder allows high precision horizontal viewing
CalVue and DieVue enables users to adjust optical probes for achieving optimal measurement performance
Allows surface coupling and horizontal edge coupling for single fibers and fiber arrays
Tip-tilt Base Positioner
Manual or automated adjustment of the incident angle in 6 degrees of freedom
Leverages standard fiber holders
Optical Performance
System can be equipped with FormFactor's revolutionary eVue digital imaging system or high-performance SlimVue microscope
The eVue's revolutionary design provides the perfect balance between optical resolution, digital zoom and live motion video. The system enables to navigate, observe and measure devices faster and smarter than ever before.
The SlimVue™ microscope mitigates mechanical interference for high-magnification optics required for small-pad probing on photonics-integrated circuits (PIC).

The system enables

the user

to navigate, observe and measure devices faster and smarter than ever

before

 

Spectrum software allows

the user to measure z-

displacement

 
Modular Solution
The prober hardware can be easily swapped if the user's measurement requirements change
Provides maximum measurement flexibility: Platen extensions can be configured to perform 3-port photonics and/or electrical measurements
Automated positioners can be configured to obtain an even faster measurement result.
Ease of Use
Ergonomic and straightforward design for comfortable and easy operation
Intuitive operation workflow makes measurements as easy as possible for all experience levels
Quick and ergonomic change of DUT through pull-out stage
Stay Connected
Receive product updates and event notifications
Subscribe to Our Newsletter