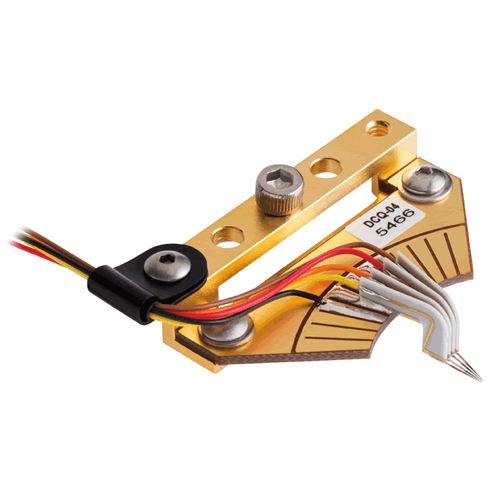 The DCQ probes use controlled impedance, ceramic blade needles for low noise and high performance. This needle
style allows the placement of high-quality bypass capacitors with very little series inductance due to their close
proximity to the probe tip. All of the needles are connected to a common ground plane but individual needles
can be easily (ground) isolated for additional low noise performance. A maximum of 16 needles are available for
standard configurations and a maximum of 24 needles for custom configurations.
Power bypass inductance: 8 nH
Standard DCQ probes have flat tip needles available in nickel-plated tungsten or BeCu with diameters of 0.75 mil, 1.0 mil and 1.5 mil.
Supports collinear and non-standard needle configurations
Up to 16 DC for standard; maximum of 24 DC for custom
Ideal for probing the entire circuit for functional test
DC probes can provide power or slow logic to circuit under test
Stay Connected
Receive product updates and event notifications
Subscribe to Our Newsletter