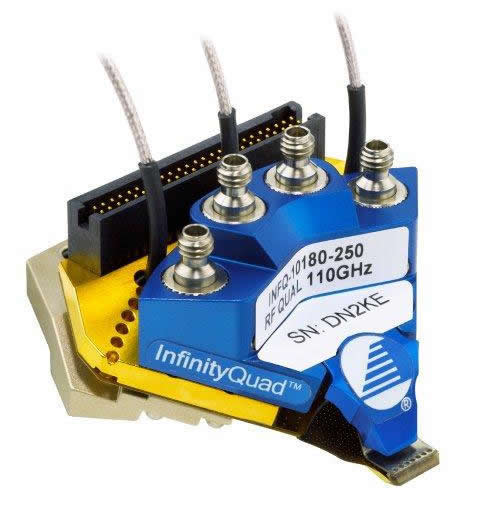 For repeatable and precise engineering tests of DC, logic, RF and mmWave RFIC devices, the InfinityQuad™ probe ensures reliable measurement results up to 110 GHz over a wide temperature range (-40 °C to 125 °C). The durable photo-lithographically defined fine-pitch tip structure enables probing of small pads down to 30 x 50 μm with minimum pad damage and consistent low contact resistance. The durable probe tips with small contact area of ~10 μm diameter ensure more than 250,000 touchdowns on Al pads, and provide accurate X, Y and Z alignment.
Pads as small as 30 μm x 50 μm become a reality in automated over-temperature probing applications. This allows the user to reduce pad sizes, saves device real estate space and lowers pad parasitics – both saving money and improving measurement accuracy.
InfinityQuad technology reduces the minimum size of the pad that can be used with a multi-contact, mixed-signal probe. And for customers already using small pads, you can repeatedly make contact with the pad – reducing the amount of time needed to manually test or eliminating the need to repeat automatic tests due to probes skating off the pads.
For more information, contact sales.
Customizable configuration up to 25 contacts: RF, Eye-Pass power, ground, logic
Lithographically-defined tips allow automated over temperature measurement on pads as small as 30 µm x 50 µm
Low and repeatable contact resistance on aluminum pads (< 0.05 Ω) ensures accurate results
Durable probe structure ensures more than 250,000 contacts
Able to measure from -40°C to +125°C without compromising performance or accuracy of specifications
Stay Connected
Receive product updates and event notifications
Subscribe to Our Newsletter