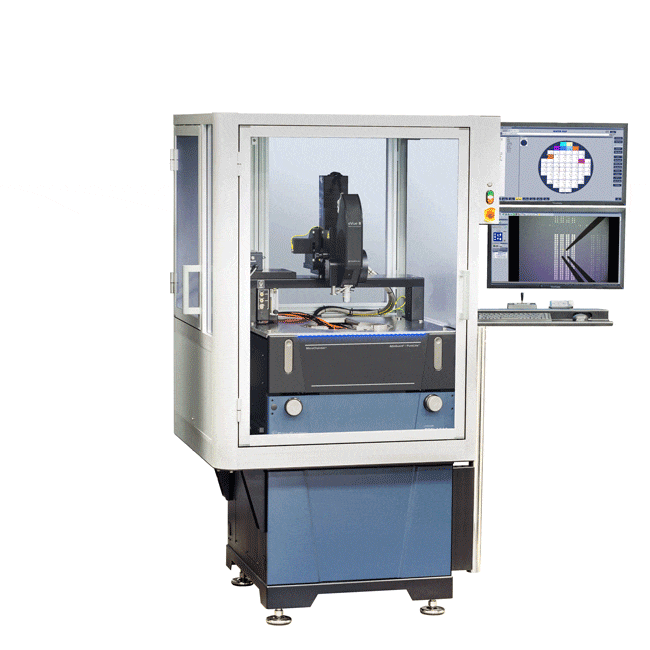 Designed specifically for IGBT/power MOSFET (GaN, SiC, Si) device measurements at the wafer level, the new TESLA200 on-wafer power semiconductor probing system is engineered to provide accurate data up to 3 kV (triaxial) / 10 kV (coaxial) and 200 A (standard) / 600 A (high current). With next generation test capabilities, anti-arcing solutions, wafer automation, and support for both engineering probes and T.I.P.S. "LuPo" High Voltage / High Power Probe Cards, the TESLA200 now enables complete thermal testing (-55°C to 300 °C) with fully-automatic thinned/warped/TAIKO wafer loading. One system covers all on-wafer high power test needs, from R&D to niche production.
The new TESLA200, available in semi-automatic and fully-automatic models, is scalable and field upgradeable, allowing it to meet any budget requirements. The system is ideal for collecting high accuracy measurement data on single or volume wafers as fast as possible, and can be utilized in R&D, device characterization/modelling or niche production applications.
Patented AttoGuard® and MicroChamber® technologies built in TESLA200 significantly improve low-leakage and low-capacitance measurements. In combination with FormFactor's patented TESLA FemtoGuard™ thermal chuck technology, the TESLA200 provides an ultra-low noise, fully guarded and shielded test environment. The high-power TESLA FemtoGuard chuck also incorporates MicroVac™ technology enabling low-contact resistance, thin-wafer handling and maximum power dissipation.
To ensure the utmost safety during high-voltage measurements, the TESLA200 on-wafer power semiconductor probing system employs a TUV-certified safety interlock system integrated with an ergonomic clear enclosure. With an advanced 200 mm fast stage, automatic wafer loader and thin wafer handling capability, TESLA200 provides everything needed for scientists, R&D / test engineers, or production operators to get their job done fast.
High-voltage/current Probes
On-wafer power device characterization up to 10,000 V DC / 600 A
Reduced probe and device destruction at high currents up to 20 A DC and 300 A pulse
Increased isolation resistance and dielectric strength to provide full triaxial capability at high voltage (3,000 V) for low-leakage measurement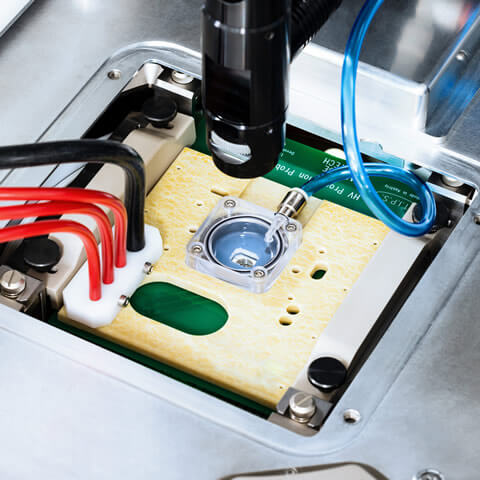 T.I.P.S. "LuPo" High Voltage / High Power Probe Cards
Gold-plated TESLA High-power MicroVac™ Chucks
Prevent thin wafers from curling and breaking
Advanced MicroVac chuck surface for minimum contact resistance between wafer and chuck
Accurate Rds(on) measurement at high current
Accurate UIS measurements at high temperature
Safety for Operator
Safety interlock system with clear enclosure for operator safety during device measurements
Roll-out stage for full wafer access and easy wafer loading/unloading
Seamless Integration
Convenient connection kits for easy and safe system integration with power device analyzers from Keysight Technologies and major suppliers
Seamless integration between Velox and analyzers/measurement software
Thermal Measurements
Wide range of extremly performant, reliable thermal chuck systems from ATT
Flexibility from hot only to full thermal range of -60°C to +300°C
Up to 25% lower air consumption (CDA) than other systems in the market (300l/min) with no compromise in transition times
Up to 15% faster transition times than other systems in the market
Patented MicroVac™ and FemtoGuard™ Technologies, providing ultra-low noise measurements and controlled leakage, low residual capacitance for repeatability and advanced measurement accuracy and speed
Field-upgradeable: grows with your needs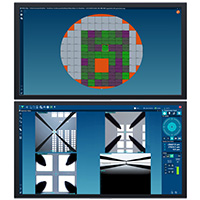 User-centered design minimizes training costs and enhances efficiency
Windows 10 compatibility enables highest performance and safe operation with state-of-the-art hardware
Comprehensive alignment functions – from simple wafer alignment and mapping to advanced probe-to-pad alignment over multiple temperatures for autonomous semiconductor test
Simplified operation for inexperienced users: Reduced training costs with Workflow Guide and condensed graphical user interface
Loader integration – Easy creation of workflows and receipts and no need for any additional software
VeloxPro option: SEMI E95-compliant test executive software that enables simplified and safe automation of the entire wafer test cycle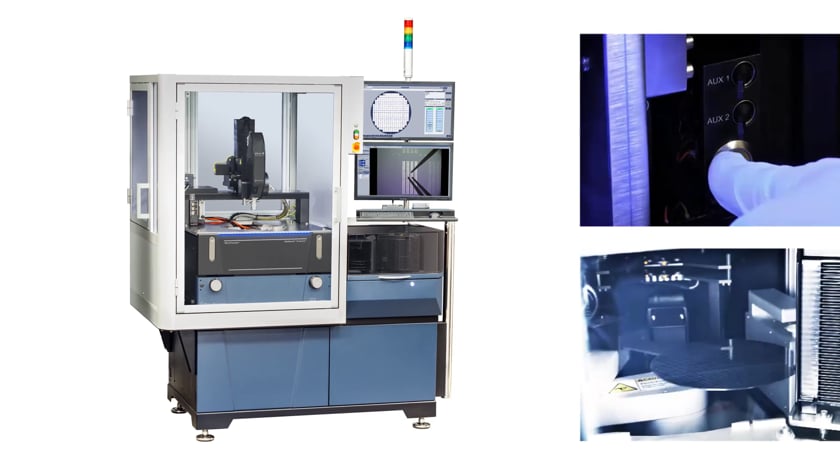 TESLA200 - 200mm High Power Probe System
The TESLA200 Advanced On-Wafer Power Semiconductor Probe System is an integrated high-power test solution that enables collection of accurate high voltage and high current measurement data, with complete operator safety.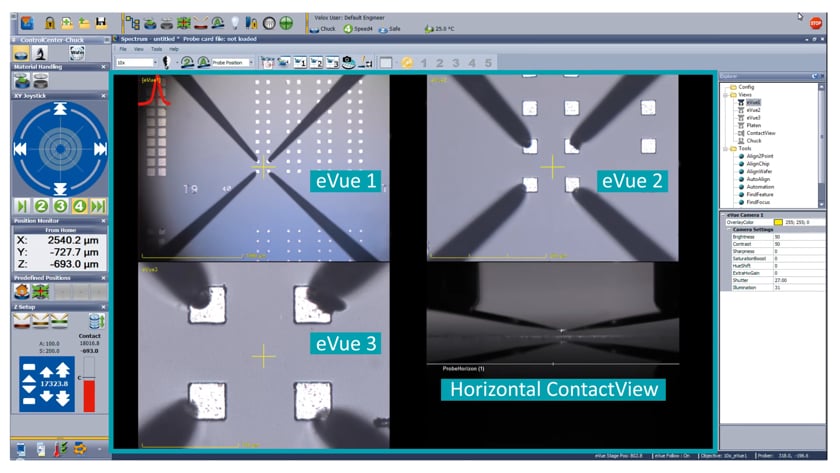 eVue IV Microscope
The eVue IV digital imaging system combines extraordinary optical performance with increased productivity.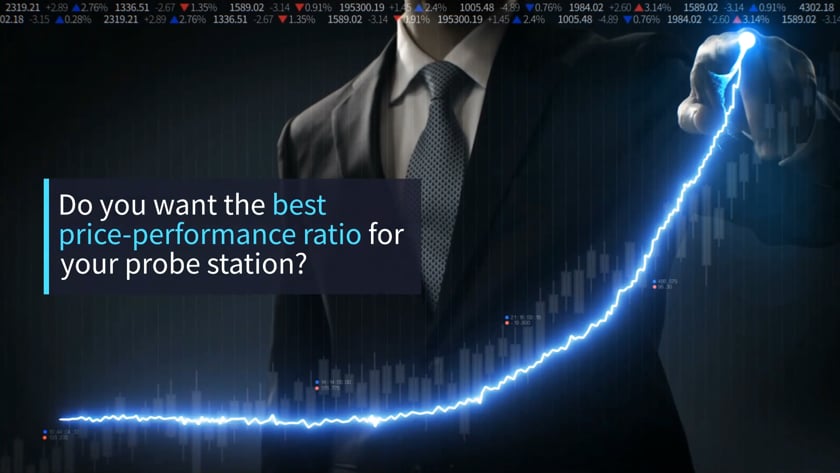 SourceOne – Certified Pre-Owned Equipment
You want the best price-performance ratio for your wafer probe station? With our Certified Used Equipment we have an attractive option for you.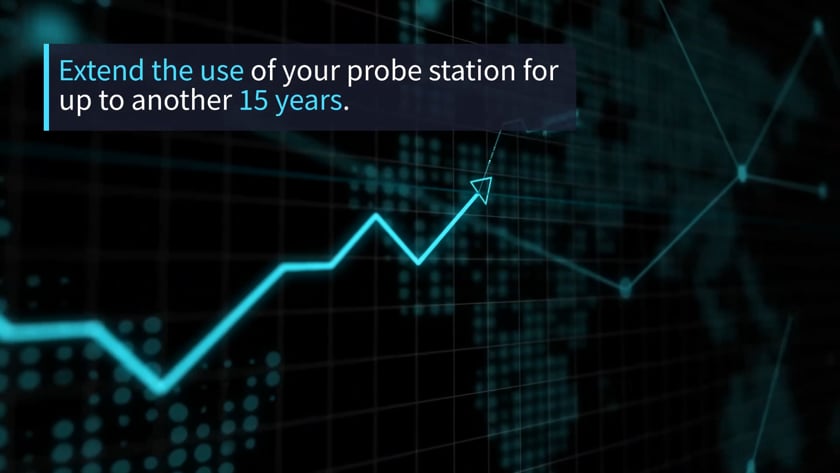 SourceOne – Factory Refurbishment Program
Extend the use of your probe station for up to another 15 years with our Factory Refurbishment Program.
Stay Connected
Receive product updates and event notifications
Subscribe to Our Newsletter