Cascade
CM300xi-SiPh
300 mm semi-/ fully-automated probe system with Autonomous Silicon Photonics Measurement Assistant
Connect to an Expert
Looking for customer support? Ready to learn more about our products and services?
Contact Sales Today
Stay Connected
Receive product updates and event notifications
Subscribe to Our Newsletter
300 mm Probe Station with Integrated Silicon Photonics Wafer and Die-Level Probing Solution
The CM300xi-SiPh 300 mm probe station is the first verified integrated measurement solution on the market that enables engineering and production-proven, optimized optical measurements right after installation – without further development. This unique Autonomous SiPh Measurement Assistant provides a groundbreaking set of functions that precisely calibrate the optical positioning hardware to the probe station and verify the performance of the integrated system.
In combination with the revolutionary OptoVue for advanced calibrations, intelligent machine vision algorithms and the exclusive SiPh TopHat for dark, shielded and frost-free environment, the system enables true hands-free autonomous calibration and re-calibration at multiple temperatures. This enables faster time to more accurate measurements and reduced cost of test.
FormFactor's exclusively developed SiPh-Tools and Photonics Controller Interface (PCI) provide powerful software tools for alignments, data collection and analysis. This includes all necessary algorithms for using fibers and fiber arrays with both surface and edge coupling applications.
FormFactor provides all the tools, fixtures and functionality needed to enable you to be performing silicon photonic probing on your photonic devices in days instead of months or years.
OptoVue
Revolutionary technology advancement for wafer and die-level photonics probing
Real-time in-situ calibrations
Singulated die testing
True die-level edge coupling
In-situ power measurements
Advanced calibration technologies
Enables autonomous measurements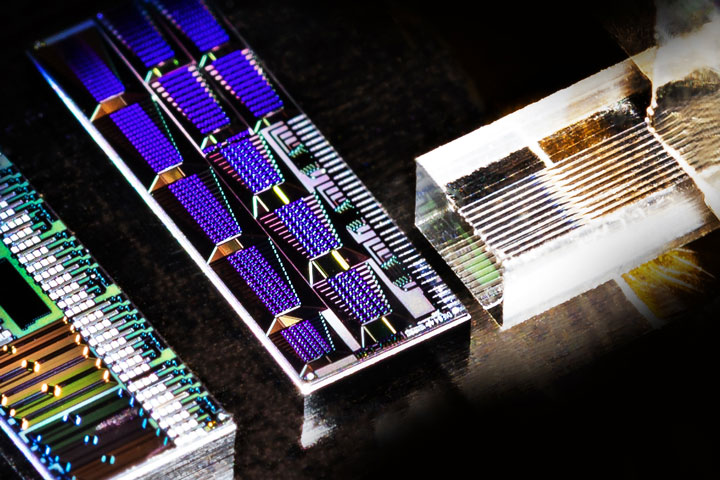 Horizontal Die-Level Edge Coupling
Highest accuracy in test results
Lowest coupling loss
Repeatable measurement results due to exclusive automated fiber-to-facet alignment technology
Reduced risk of damaging fibers with collision avoidance technology
Ease of use for less experienced users
Enables close simulation of real-world conditions with device performance closest to the final application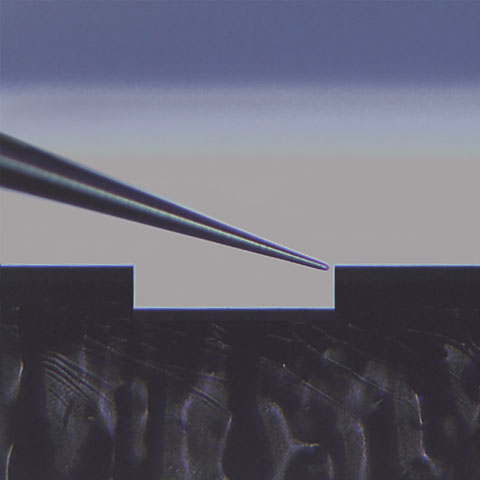 Wafer-Level Edge Coupling
New innovative combination of hardware and software features to align and optimize fibers/arrays in a wafer-level trench
Minimized coupling losses with minimal trench dimensions
Easy setup even for less experienced users
Repeatable measurement results due to unique fiber-to-facet gap alignment technology
Reduced risk of damaging fibers with collision avoidance technology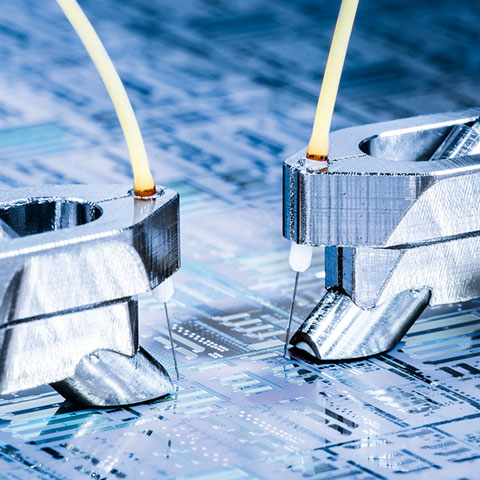 Vertical Coupling
Industry standard for vertical coupling to wafer-level grating couplers
Positioning hardware is precisely calibrated to the probe station and ready to perform die-to-die optical optimizations in minutes
Exclusive Pivot Point calibration determines the optimal point of minimal translation at the fiber/array tip
Search First Light feature enables automated determination of initial position for optimization
Other integrated features: Incident Angle Cal, Optical Rotation Scan, Optical Scan Data Analysis, Optical Tracking, Align Optical Probes
Thermal Capability
Dark, shielded and frost-free
-40°C to +125°C
Only solution available that enables minimized air flow impact at cold temperatures to the fibers/fiber arrays for stable and repeatable measurement results
Exclusive ITO-coated TopHat window for easy setup
Enables hands-free autonomous calibration and re-calibration at multiple temperatures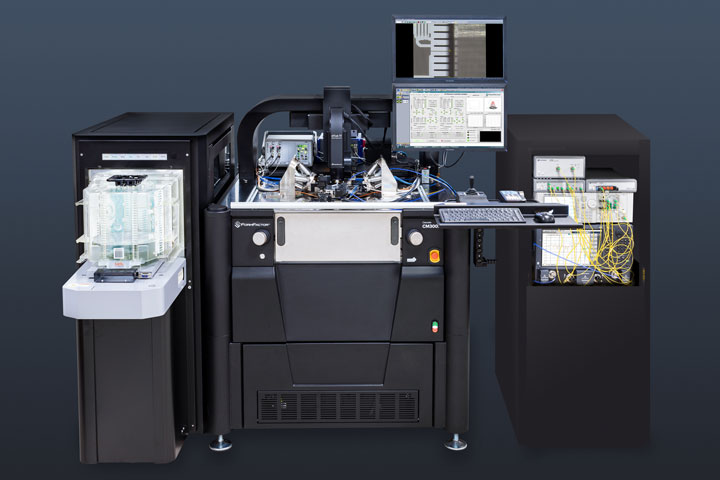 Alliances Hold the Key to SiPh Test Solutions
Exclusive Automated Calibrations
Pioneering set of automated functions that perform critical calibrations of the optical positioning system to the probe station
Step-by-step wafer to probe height training
CalVue utilizes uniquely designed retro-mirror technology to view all aspects of the fiber/array without external light and enables real-time in-situ automated calibrations
Further exclusive calibration functions: motor calibration, z-displacement calibration, theta calibrations, pzt calibration, planarity calibrations, automatic pivot point calibration
Proven Performance
Exclusive FormFactor-developed automated test methodology
Demonstrates full performance of the positioning solution calibrated to the probe station by measuring the coupled power repeatability
Verifies that the coupled power results across 900 measurements are within less than 0.3 dB
In between each measurement, all solution elements are moved including the wafer chuck, hexapod stages and piezo stages
Truly demonstrates the integrated performance and robustness of FormFactor's Autonomous Silicon Photonics Measurement Assistant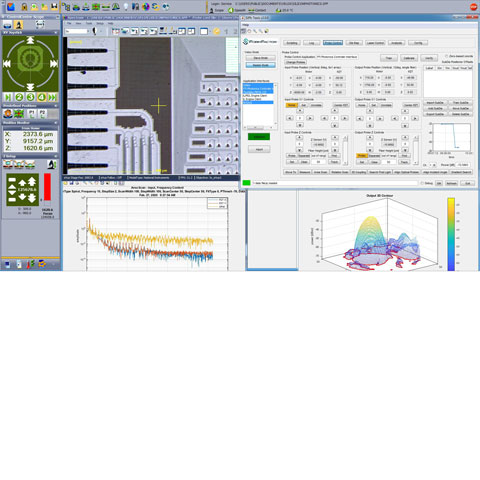 FormFactor SiPh-Tools
Powerful FormFactor-developed software package
Includes a vast tool set for enabling and facilitating optical probing
Automates manual tasks by integrating probe station machine vision capability with optical positioning and test equipment
Features: Measurement Position Training, Wafer Training, Automated Alignment Functions, Calibration Wafer Verifications, Optical Alignment Verifications, Sub-Die Management
Wide range of tools for capturing, logging and interpreting data
FormFactor Photonics Controller Interface (PCI)
FormFactor-developed graphical user interface to manually control the optical positioning system
Can also be used to setup scan parameter configurations and perform initial optical alignment functions
Once aligned, all calibration functions are automated and performed through SiPh-Tools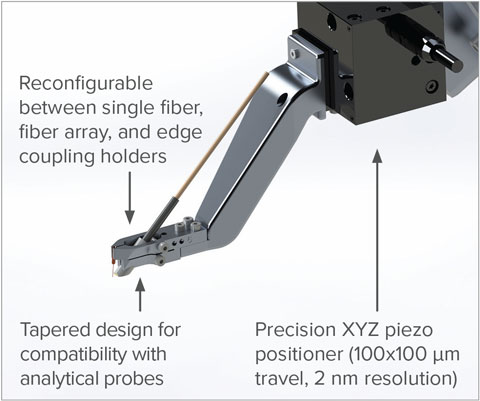 Reconfigurable Fiber Arm
Configurable between single fibers, fiber arrays and edge coupling holders
Flexibility for engineering and volume environments
After changing fiber holders, FormFactor's automated calibration routines will have you back up and running in minutes
Custom designed nanometer-accuracy integrated Z-Displacement sensor maximizes the testable area of the wafer and guarantees accurate and repeatable data collection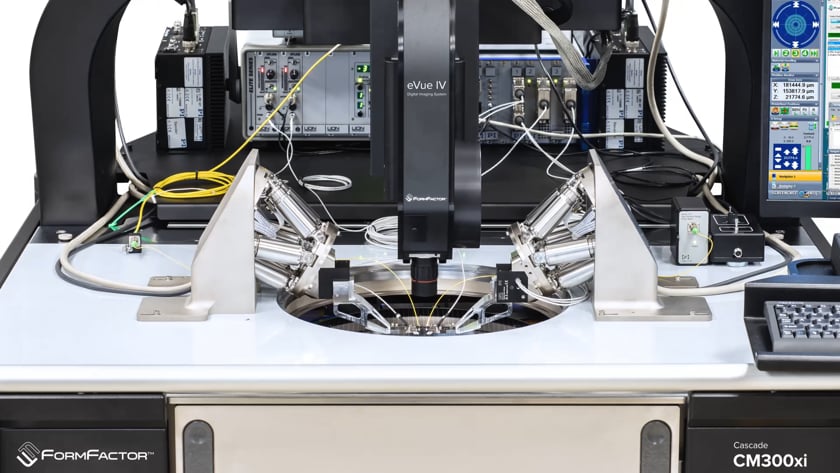 Autonomous Silicon Photonics Measurement Assistant
FormFactor's Autonomous Silicon Photonics Measurement Assistant enables and optimizes silicon photonics coupling. The use of single optical fibers and fiber arrays as probes to couple light into and out of a wafer surface creates many challenges that FormFactor manages through its Contact Intelligence technology.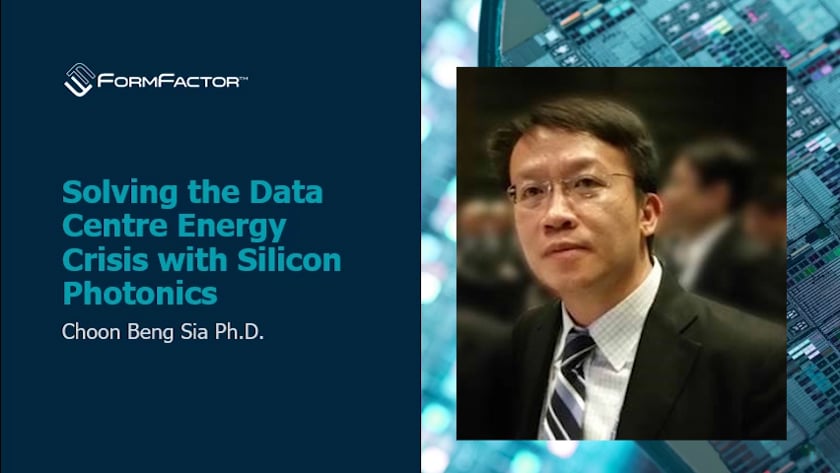 Solving the Data Center Energy Crisis with Silicon Photonics | Dr. Choon Beng Sia
A deluge of business data flows into corporate data centers each day, faster than anyone can sort through it. At the same time, consumers are communicating, browsing, buying, sharing, and searching—creating their own enormous trails of data and an incredible energy demand at data centers. FormFactor's Dr Choon Beng Sia presents a paper on the application of Silicon Photonics (SiPh) devices, how these new devices can help lower energy consumption in data centers, why accurate and reliable wafer-level photonics test are needed, and how FormFactor is helping to address the challenges of testing SiPh devices.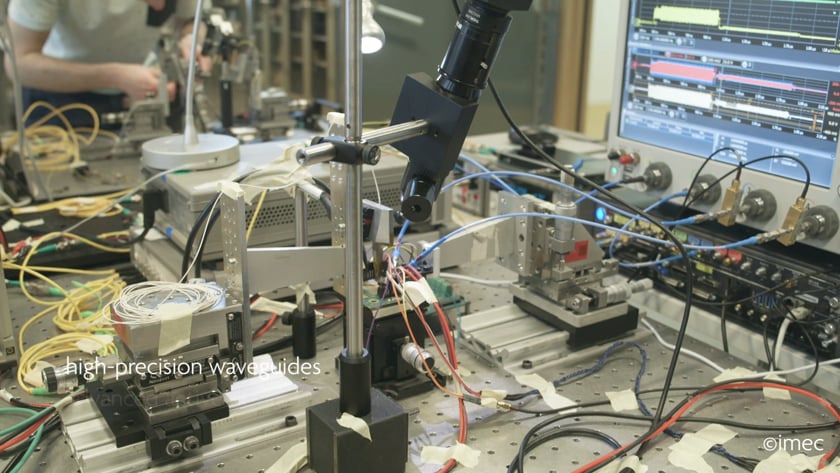 imec's Silicon Photonics Research and Manufacturing Program
See how our customer imec is using our CM300 to enable their development of silicon photonics solutions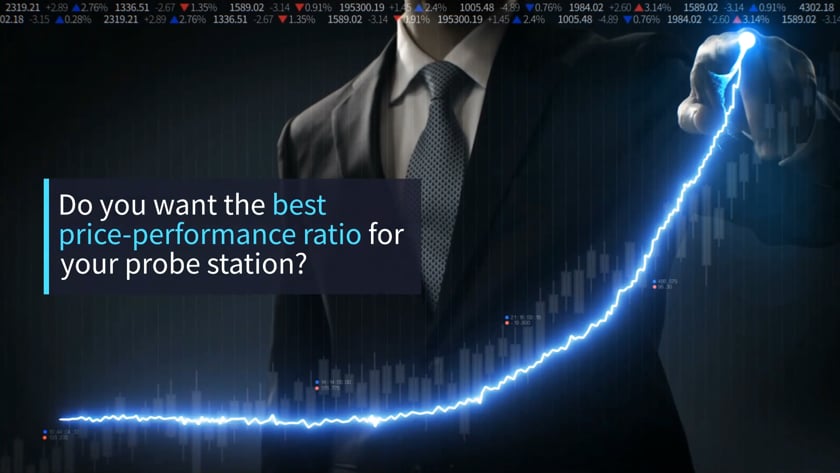 SourceOne – Certified Pre-Owned Equipment
You want the best price-performance ratio for your wafer probe station? With our Certified Used Equipment we have an attractive option for you.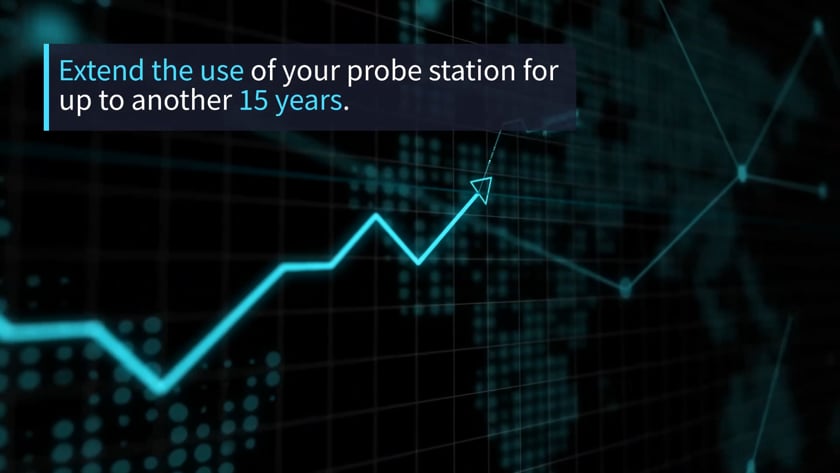 SourceOne – Factory Refurbishment Program
Extend the use of your probe station for up to another 15 years with our Factory Refurbishment Program.
Stay Connected
Receive product updates and event notifications
Subscribe to Our Newsletter