Summit Overview
Precise On-Wafer Device and Process Characterization
High-precision probe system that enables unattended testing at multiple temperatures. Excellent measurement performance is achieved for a wide range of applications in an EMI-shielded, light-tight and moisture-free test environment, at a temperature range from -60°C to 300°C.
Applications: IV/CV, RF/mmW, Failure Analysis, WLR, MEMS
Summit Key Features
High flexibility
Re-configurable for DC, RF, mmW, FA, WLR and more
Thermal range: -60˚C to 300˚C available
Upgrade path to meet your future needs
Complete solution for small- and large-area multi-site probe cards*
Stable and repeatable measurements over a wide thermal range
* Semi-auto version only.
Advanced shielding solution
Moisture-free, light-tight and EMI-shielded test environment with MicroChamber® technology
Advanced EMI-shielding with PureLine with AttoGuard technologies
Best solution for low-noise and 1/f measurements
Minimize AC and spectral noise
Minimizes settling times for efficient measurements, without compromising accuracy over full thermal range
Ease of use
Locking roll-out stage
Innovative microscope remote control
Intuitive ergonomic stage controls
Quick, safe, and comfortable wafer access
Easy on-wafer navigation
Fast setup and test data gathering
Unattended testing over multiple temperatures*
VueTrack™ technology
High-Temperature Stability (HTS) enhancement
Faster time to data
Improved yields
* Semi-auto version only.
Productivity*
eVue™ digital imaging system
Powerful automation tools
CellView
Enhanced optical visualization, fast set-up, and in-die and wafer navigation
Automatic die-size measurements and wafer alignment
Enables fast sub-die navigation
* Semi-auto version only.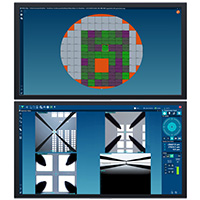 User-centered design minimizes training costs and enhances efficiency
Windows 10 compatibility enables highest performance and safe operation with state-of-the-art hardware
Comprehensive alignment functions – from simple wafer alignment and mapping to advanced probe-to-pad alignment over multiple temperatures for autonomous semiconductor test
Simplified operation for inexperienced users: Reduced training costs with Workflow Guide and condensed graphical user interface
VeloxPro option: SEMI E95-compliant test executive software that enables simplified and safe automation of the entire wafer test cycle
*Semi-auto version only.