Blog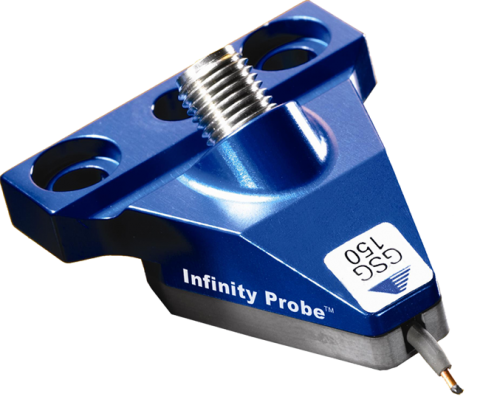 Improving Engineer Productivity with Infinity & InfinityXT Probes
April 4, 2019
The Infinity Probe sets a new standard by ensuring better measurements on aluminum pads, reducing re-probing and errors in measured data. Check out how it improves engineer productivity.


Ideal for device characterization and modeling, our Infinity Probe® family combines extremely low contact resistance on aluminum pads with unsurpassed RF measurement accuracy for highly reliable, repeatable measurements. Proprietary thin-film and coaxial probe technology reduces unwanted couplings to nearby devices and transmission modes. So how does the Infinity probe family actually improve the productivity of the test engineering team?
Glad you asked…
The Infinity family of probes sets a new standard by ensuring better measurements on aluminum pads, reducing re-probing and errors in measured data. The Infinity probe is a key component of an integrated test solution from FormFactor that includes the probe station and its control systems, calibration and measure­ment software, along with turnkey installation and training. Coming soon: the newest member of the Infinity probe family, the InfinityXT series, takes this to the next level by providing improved tip visibility for better probe placement accuracy and repeatability, combined with higher temperature capability for emerging needs in the RF markets like 5G, automotive and aerospace. It just makes your job easier.
The Infinity Probe expands device characterization capabilities through these fea­tures:
Typical contact resistance of < 0.1 Ω over 100,000 cycles on aluminum pads
Typical contact resistance variation of < 10 mΩ during a 5-hour single contact test on aluminum pads
Ability to test devices with shrinking pad geometries (50 μm x 50 μm)
New InfinityXT higher temperature capability (175° C)
Reduced damage to aluminum pads
Superior RF measurement accuracy
Improved ground inductance performance for better over-all RF Signal performance
High accuracy for coaxial broadband probes to 145 GHz
In addition, our overall test solution expands characteriza­tion performance and productivity through:
MicroChamber® enclosures for low-current and low-temperature mea­surement. Available on 200 mm and 300 mm stations, this capability elimi­nates the need for re-configuration of the test system between RF and para­metric tests on the same wafer, thus improving test engineer and test equip­ment asset productivity. It also reduces the possibility of damage to expensive 1mm coaxial cables and millimeter-wave modules. In addition, system integ­rity is ensured and there will be no need for continual re-qualification of the system.
Thermal test range capability (-65°C to 125°C, Infinity, 175°C for InfinityXT) permits modeling of 110 GHz devices over-temperature ensuring a more accurate and compre­hensive device model.
Thermally isolated auxiliary chuck: The calibration substrate is located on this chuck. The thermal isolation from the main chuck ensures the accuracy and integrity of the calibration is maintained during over temperature test. The load impedance on the substrate remains 50 Ω in spite of changes to the main chuck temperature.
Impedance Standard Substrates (ISS): verified at millimeter-wave frequen­cies.
WinCalXE™ Calibration Software: Our patented, advanced calibration technique has been demonstrated to be the most accurate method for cali­bration to 110 GHz.
These advantages set a new standard in increased measurement accuracy and repeatability. In addition, they significantly increase the productivity of device charac­terization engineers while at the same time greatly improving the return on the substantial investment RF semiconductor companies must make in wafer-based test systems. This approach also ensures automation and correlation of data between different measurements and measurement systems, subsequently reduc­ing modeling, design cycle time and time-to-market.
And now you know. For more details on the Infinity Probe, you can check our website.